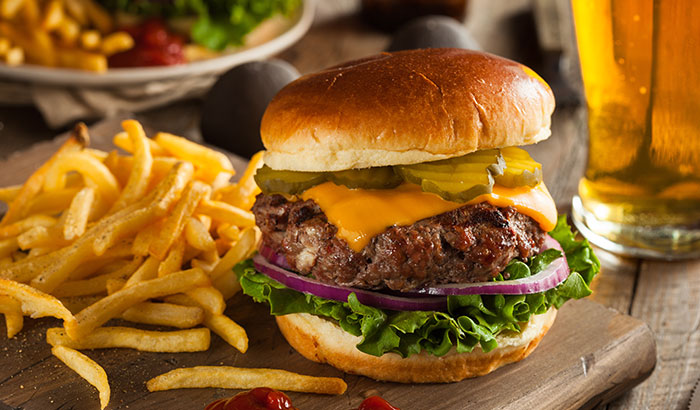 Hamburgers are an American diet staple and a favorite dish among just about everyone! Keep reading for more information on this classic treat.

Burgers are made up of a ground patty, typically ground beef, but can be composed of ground turkey, bison, or bean and other vegetarian options. Served between a sliced bun and topped with different condiments such as mayo, ketchup, mustard, and various toppings such as lettuce, tomato, pickles, onion, cheese, and more. Aside from this, most people don't know much about the beloved burger, but we're here to fill you in on some interesting facts to get you in the know.

Read more below.

10 Things You Didn't Know About Hamburgers

Cheese, Cheese, and More Cheese 

— There are many different kinds of cheese that people opt to put on their burgers. But the most common and popular choice of cheese for burgers is the classic cheddar cheese.




Namesake

 — The name "hamburger" 

is believed

 to come from the city of Germany, Hamburg, thanks to German immigrants in the early 1900s.




All You Can Eat Americans 

— With 13 billion burgers eaten every year, Americans are the largest consumers of the dish! So if you were to line up 13 billion burgers, they would circle the world 32 times!




National Hamburger Day 

— While we consider every day to be hamburger day, the rest of the U.S. celebrates National Burger Day on the 28th of May each year.




World Record 

— The largest hamburger in the world weighed over 2,000 pounds and was prepared in 2012 by the Black Bear Casino Resort in Minnesota.




Hamburgers vs. Cheeseburgers

 — While burgers started gaining popularity and momentum around 1904, cheeseburgers didn't make their debut until more than a decade late in the 1920s.




Give Me Liberty 

— In an effort to distance itself from Germany during World War I, the United States government tried to rename the hamburger to a "liberty sandwich." It obviously didn't stick -- nor did the name "freedom fries" over 100 years later.




Temperature 

— The most common temperature of burgers is medium-rare: crisped and cooked on the outside, soft pink in the center.




Vegetarian Options 

— Vegetarians even have a hard time staying away from this iconic meal! As previously mentioned, there are several options for vegetarians, such as black bean, soy, chickpea, and other mixtures of legumes and spices to comprise meat-free patties.




Countless Restaurants 

— Thousands and thousands of restaurants in the U.S. serve burgers, and one of the best burgers you can buy is at Iceberg Drive Inn.



Craving some Hamburgers for the Family? Stop by Iceberg Drive Inn Today!

Now that you know everything there is to know about hamburgers, it's time to indulge in a quality burger from Iceberg Drive Inn. With many hamburger options to choose from on our menu, you're sure to find something you love. Complete your meal with a refreshing soda and fries or one of our Famous Thick Shakes (we have nearly 50 flavors to choose from!). 
Stop by any of our 17 locations in Arizona, California, and Utah, including Salt Lake City, Riverton, Syracuse, Sandy, Pleasant Grove, Fillmore, and St. George. One taste, and it's a tradition.