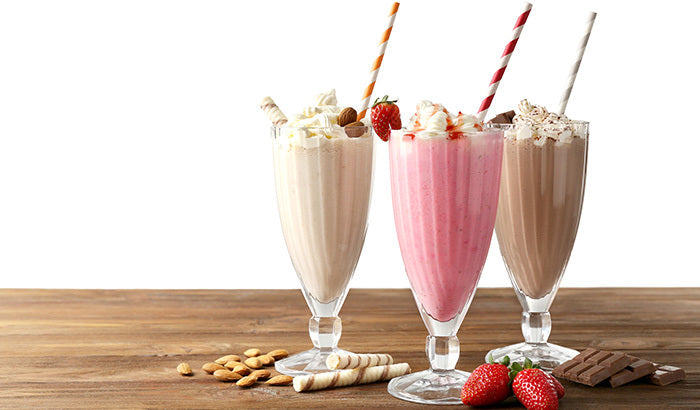 If you're looking for great food, a fun atmosphere, and the best shakes in Utah, it's time to stop at your local Iceberg Drive Inn.
Lamar Sorensen opened the first Iceberg Drive Inn on April 12, 1960. Iceberg was a great success from the beginning, rapidly bringing smiles and memories to children and families. It received a reputation for having innovative shake flavors that could not be found anywhere else.
If you're on the hunt for a delicious, thick, flavorful shake, stay tuned to learn why Iceberg is the obvious choice.
Above the Rim
Iceberg is well known across the mountain west for having massive, above-the-rim shakes. Iceberg has you covered if you're looking for a treat big enough to feed your whole family! But you don't have to share if you prefer to keep your ice cream close. Some people even toss theirs in the freezer to enjoy all week long!
Thick Is Better
In the early days of Iceberg Drive Inn, Lamar served "regular" milkshakes that used a straw. One day, a group of customers asked for thicker shakes that didn't have as much milk. These thick concoctions were only available to the regulars that requested them. When many other customers began making the same request, Lamar and his staff abandoned the original formula for our now over-the-top Famous Thick Shakes. No wonder we're known for having the best shakes in Utah!
Options, Options, Options
Nothing is worse than craving an amazing shake and arriving at a restaurant only to find they have minimal options. When you go to Iceberg, you won't have that problem! There are so many different shake options that it will make your head spin. Whether you are looking for a chocolate explosion, craving some caramel, or wanting something fruity, Iceberg will have what you are looking for. 
Here are some of the most popular mix-ins that Iceberg has to offer:
Mint chocolate chip - Mint chocolate chip is a fan favorite. The chocolate chips offer the ideal amount of sweetness, and the mint adds a delicious but light flavor to the shake. When those flavors are mixed, you won't regret your choice.
Peanut butter – Peanut butter is a classic flavor that will make people go nuts. The great thing about peanut butter is that you can pick between vanilla or chocolate ice cream for the base.




You can't lose­– it depends on what you're in the mood for! Along with chocolate and vanilla, peanut butter can go with other toppings, such as chocolate, Oreo, and even almond. The possibilities are endless!
Cookies and cream - Are you wanting a simple milkshake that still offers amazing texture and flavor? The classic cookies and creme milkshake is a timeless option. It's smooth and crunchy with a simply delectable taste.




If you want to make some changes, think about switching up the cookie base. Oreos are the standard, but any cookie can go into a milkshake to give you the same texture with a new flavor. Try chocolate chip, vanilla wafers, or even brownies bites.
Candy – Who doesn't love a candy bar? Imagine adding that candy bar into a smooth shake. With so many options, you have complete control over the flavor profile of your shake.




First, choose between chocolate or vanilla ice cream. After that, select your ideal candy bar; Snickers, Butterfinger, and Almond Joy candy pieces are popular options. There is no way to go wrong!
Chocolate swirl – The chocolate swirl milkshake is made from vanilla ice cream with delectable chocolate syrup mixed in. You can elevate this delicious combination with a different syrup flavor or ice cream base — that's the fun part about milkshake mix-ins! You can mix and match to find the perfect flavor to match your mood.
Top it off with a Cherry
After you create your ideal shake to fit your mood, don't forget to top it off with a delectable cherry. The classic image of a shake is topped with that sweet fruit.
Maraschino cherries

—

Maraschino cherries

are sweetened cherries preserved from lighter-colored cherries. Gold, Rainier, and Royal Ann are the most common cherries used for maraschino cherries. The cherries are then bathed in food coloring and a sugar syrup mixture to give them their bright red color and delicious taste. You won't regret topping off your shake with this sweet treat!
Pie cherries

— The cherries used for pies are usually tarter than they are sweet. The morello cherry is the most used option for cherry pies. This cherry has a rich, crimson color with a dark red juice.




The morello cherry is from the United Kingdom and has been used for centuries. These large, heart-shaped fruits are ripe by the end of summer. The tart taste and its abundance of juice make for excellent cooking and pie making — not to mention a sweet and sour milkshake.
Amazing Food
Iceberg offers the best food to go along with the amazing shake options. Iceberg offers fantastic hamburgers, hotdogs, and sides that pair well with any shake.
Hotdogs –

Our hot dogs are the best companion to a milkshake. The great thing about hotdogs, just like milkshakes, is that they give you plenty of options to add toppings. People debate passionately about whether you should put ketchup or mustard on a hotdog. You can also top it with a pickle, onion, or even sauerkraut.
Hamburgers –

Just like hot dogs, hamburgers offer a portion of excellent savory food with a tasty shake. While you customize your shake, personalize your burger with bacon, onions, jalapenos, and more!
Sides –

If you are not looking for an entree, take a peek at our tasty sides. Onion rings or French fries accompany any shake like bread and butter. You might even get wild and dip your onion rings or fries in the shake!
Enjoy a Famous Shake From Iceberg Drive Inn
Iceberg Drive Inn is here for you if you're on the hunt for the best shakes in Utah! We've been around for over 60 years and specialize in everything homemade. Every flavor mentioned in this blog is available at our many locations. 
We have locations across Utah, including Salt Lake City, Fillmore, Sandy, St. George, Syracuse, Riverton, Pleasant Grove, and Santaquin.
We also offer convenient online ordering, so your food will be ready when you arrive. Visit our website to see our full menu and dream up the perfect shake for your next visit!