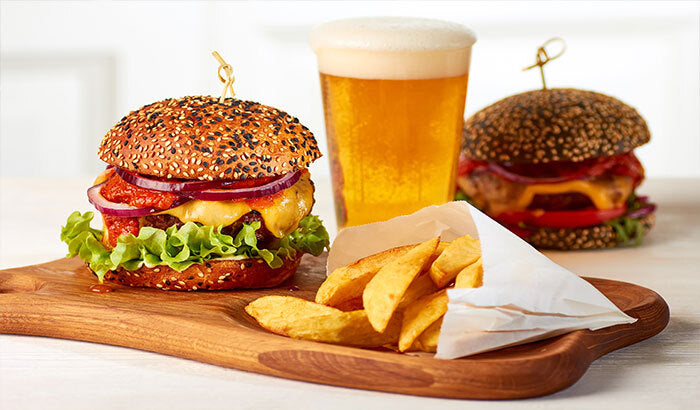 Almost nothing can make a good burger better, except when you pair it with one of your favorite sides.
Hamburgers are a classic All-American dish that are packed full of flavor. They may be made up of basic components, but when they are cooked to perfection, and paired with a delicious side, just about no one can pass up this tasty meal. For some, good, old-fashioned french fries are the ultimate side, and for others, they are looking for something a bit more adventurous. Thankfully, you cannot go wrong, especially with one of the following mouth-watering side dishes.
Continue reading below.
5 Favorite Sides to Pair With Your Meal

No meal is complete without a good side. If you want to elevate your eating experience, add any one (or two — we don't judge!) of the following sides to your meal:
FRENCH FRIES — There's nothing wrong with opting for the classic french fry for your side dish. This salty side is a staple, and if it ain't broke, don't try to fix it! There are countless ways to enjoy fries:
Fries made from sweet potatoes; a favorite twist on a classic.
Dipped in ranch, fry sauce, ketchup, mustard, bbq sauce, and more!
Tossed in various types of seasonings, like different herbs or a spicy cajun seasoning
ONION RINGS — With a crispy texture and savory, mouth-watering taste, what isn't to love about fresh and warm onion rings?! Onion rings are delicious cross-sectional cuts of onions dipped in batter and deep-fried until a crispy golden brown. With or without a dipping sauce, they are unreal!
ZUCCHINI STRIPS — For a somewhat healthier, fresh, and vegetable option, try zucchini strips. Hand-cut, breaded zucchini, fried to a perfect crisp and served with ranch. Just about nothing better!
TATER TOTS — If you want something a little different than french fries but don't want to stray too far from the basics, you may want to opt for some tater tots. Try a variation of tater tots that are dusted with a Hidden Valley Ranch or spicy cajun seasoning for something a bit different.
MOZZARELLA STICKS — If you love fried food and cheese, you will love mozzarella sticks! Fast-food connoisseurs everywhere are obsessed with and cannot get enough of these cheesy snacks. Crisp on the outside, soft and gooey on the inside. Eat them plain or dip them in a zesty marinara sauce.
Get Your Favorite Sides At Iceberg Drive Inn Today!

If you want Utah's go-to onion rings, make sure to stop by Iceberg Drive Inn today! For over 55 years, Iceberg Drive Inn has been a favorite family tradition. We are famous for our Thick Shakes, known for our hand-breaded onion rings and beloved for our fresh fries. We also serve freshly prepared sandwiches, hamburgers, and many other delicious items.
Take a look at our menu and visit any of our convenient Utah locations in Salt Lake City, Sandy, Riverton, Syracuse, Pleasant Grove, Fillmore, and St. George. One taste, and it's a tradition!