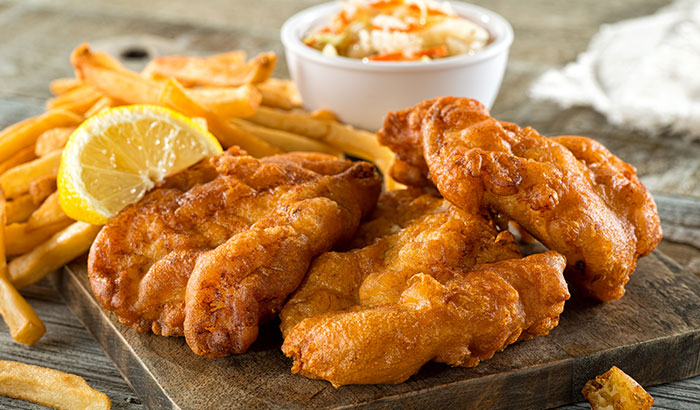 Fish and chips, also called fish 'n' chips, is a hot meal made up of batter-fried fish served with chips.

Fish and chips is one of the tastiest dishes out there and a staple among many different cultures — especially the British culture. Just picture it: a cold, wintery day in England, freshly cooked and steaming hot fish and chips, perfectly seasoned, wrapped in yesterday's newspaper, complete with a side of lemon, vinegar, and mushy peas. It doesn't get much better than that! But how did this classic British dish make its way to the United States? Let's take a look.

Continue reading to learn more about this delicacy and how it made its way across the pond.

What Is the History of Fish and Chips?

Like many things in the culinary world, there are multiple claims of being the original. While the potato is widely believed to come to England from the New World in the 16th century thanks to Sir Walter Raleigh. The french fry or, in this case, the chip, was invented in Belgium (others believe the French created them).

London and Lancashire claim to be the creators of this national dish. It's reported that fried fish was introduced in the East End of London and the fried chips were an integral part of the industrial north. Because chips were an inexpensive yet tasty and satisfying food, pairing the two was the perfect combination, and the authentic English meal, fish and chips, was born in the 1860s. By 1910, there were more than 25,000 fish and chip restaurants across the United Kingdom. By the 1930s, there were more than 35,000 shops. The trend has since reversed, and as of ten years ago, there were only 10,000.

When Did Fish and Chips Come to the United States? 

Because this dish is so delicious, it wasn't long until it began to rise in popularity in neighboring areas, like Scotland and Ireland — and years later, it soon spread to the United States. And, boy, are we thankful it did!

Fish and Chips in the United States

The American take on fish and chips isn't too different from the original. Chips in Britain are typically thicker than the American version. Like in the UK, it is generally served with a slice of fresh lemon and some malt vinegar, but the United States version is often served with a side of tartar sauce and coleslaw.

Visit an Iceberg Drive Inn Location Near You

You don't have to travel far to enjoy the taste of fresh fish and chips — head to your local Iceberg Drive Inn to satisfy your craving.

Take a look at our menu and order online for quick and convenient service. Enjoy our Famous Thick Shakes, crispy french fries, hand-breaded onion rings, sandwiches, hamburgers, fish and chips, and more! Indulge your cravings at any one of our locations in Arizona, California, and Utah, including Salt Lake City, Fillmore, Pleasant Grove, Riverton, Sandy, Syracuse, and St. George today. One taste, and it's a tradition.