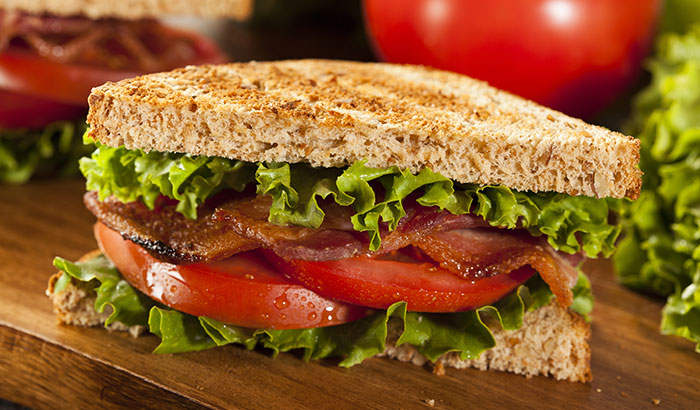 The BLT, a sandwich named after the initials of its tasty primary ingredients, bacon, lettuce, and tomato, is a go-to sandwich that is loved by all. 
This sandwich, often paired with mayo and served with a triple-decker presentation on toasty warm bread, is an American favorite! While parts of this beloved sandwich (i.e., the toast, bacon, and lettuce) have been consumed since before Ancient Roman times, the remaining ingredients didn't join the party until a while later.

Continue reading to learn more about the history of BLTs and why they are so loved below.

The History of the BLT

As you know, the BLT is primarily made up of five key ingredients: toast, bacon, lettuce, tomato, and mayo. As previously mentioned, bread, or in this case, toast, is the oldest of these ingredients. The Egyptians mastered the art of leavening bread using yeast, which presented more culinary opportunities than flatbread ever could. 

We also have to thank the ancient Egyptians for cultivation lettuce. Lettuce was once considered a weed until the Egyptians turned it into a food plant more than 4,000 years ago. After that, lettuce was taken to Greece and Rome, where many variations of lettuce were grown.

Next comes many people's favorite element: the bacon. Since the Stone Age, wild boar meat has been consumed and loved. It's now been thousands and thousands of years since pigs were domesticated from wild boar, and in the mid-1700s, the modern bacon, as we know it, made its first appearance.

Near the end of the 16th century, tomatoes were brought to Europe from the New World as house plants. However, they were not eaten for another two centuries thanks to a famine in Italy in the early 1800s. And, lastly, mayonnaise. The first mayo was invented in 1756, but it wasn't until years later that it became what we know and love as the modern mayonnaise. Marie-Antoine Carême, the famous French chef, lightened the original preparation by combining egg yolks and vegetable oil, making the mayo we enjoy today.

Why is the BLT so Popular?

Well, have you ever tasted a BLT? Between the taste of the fresh ingredients and the unique textures that each one brings, the BLT might be the perfect sandwich. Nowadays, there are many ways to enjoy a BLT and variations on the theme, such as different kinds of lettuce (sprouts, arugula, romaine, and more) and tomatoes (heirloom, fried green, and sun-dried tomatoes). There are also additions to the sandwich, like avocado or a protein like fried eggs, chicken, or turkey. 

Stop By Iceberg Drive Inn Today!

You're craving a BLT, now, aren't you? Well, we would never leave you high and dry! Stop by Iceberg Drive Inn today to enjoy a BLT. With warm toast and fresh ingredients, you're sure to love our take on the classic American BLT. 
Be sure to browse our menu and stop by any one of our convenient Utah locations in Salt Lake City, Fillmore, Sandy, Syracuse, St. George, Riverton, and Pleasant Grove today. One taste, and it's a tradition!