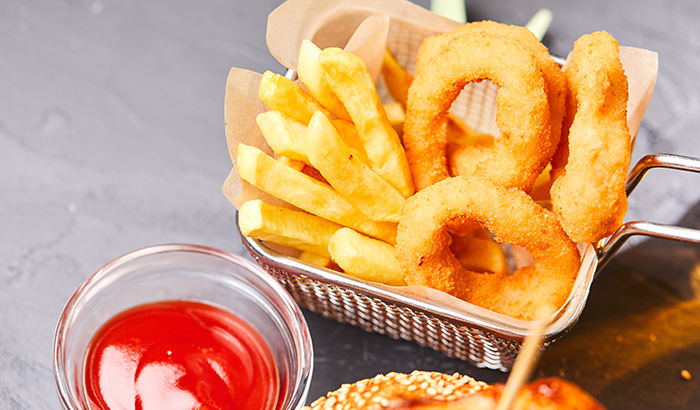 French fries and onion rings are delicious, mouth-watering sides, and choosing which to pair with your meal can be challenging.

Ah, the great debate: Team Fries or Team Rings. We have a hard time choosing and aren't convinced you need to pick a team! If you're going to have a problem, deciding between fries and onion rings is a good one to have. But today, we're taking a deep dive into these deep-fried sides and breaking down the differences between the two to help you determine which side you should choose.

Continue reading to learn more.

French Fries vs. Onion Rings: How to Choose

Deciding between fries and onion rings is hard, but it's an important choice, and it's yours to make. Here are a few different comparisons between the two that will help you make an informed decision. 

Wide Variety — If you want a variety of options, fries are the clear winner. There are many different types of fries available: crinkle-cut, steak fries, sweet potato fries, curly fries, waffle cut, cajun fries, and more! This side is so popular, and you can get them at most restaurants. Onion rings, on the other hand, have fewer varieties. It just comes down to how thick the onions are cut and served. There is, of course, the distant cousin of the onion ring, the blooming onion. But that's not quite the same.

Nutrition — When you think of fries and rings, nutrition probably isn't the first thing to pop in your head. But that doesn't mean they don't each contain some nutrients. Potatoes contain magnesium, calcium, iron, phosphorus, and zinc elements. While onions have been linked to lowering glucose levels in those with diabetes, reducing cancer (when accompanied by turmeric), and can improve your oral health! Now, we're not saying you should indulge in these delectable sides every day. But we are saying it's almost like taking your vitamins! So, which meds are you taking today?

Convenience — As we said above, you can find fries at just about every restaurant, making them a convenient choice. They are easy to share and can be eaten without making a huge mess. However, onion rings aren't on every menu, making them more unique. They are more tricky to share, but that just means more for you! But, they both share one major inconvenience: the faster you eat them, the quicker they disappear.

Craving French Fries and Onion Rings? Stop By Iceberg Drive Inn Today!

Stop by Iceberg Drive Inn today if you're ready to eat some fresh, hand-breaded onion rings or hot and crispy french fries! You and your crew can enjoy our tasty sandwiches and hamburgers, Famous Thick Shakes, and various sides to complete your meal, including fries and onion rings — you won't have to choose! Indulge in any of our exceptional menu items at our 17 Iceberg locations, including our Utah locations in Salt Lake City, Syracuse, Riverton, Fillmore, Sandy, Pleasant Grove, and St. George. Take a look at our online menu and stop by today. One taste, and it's a tradition.