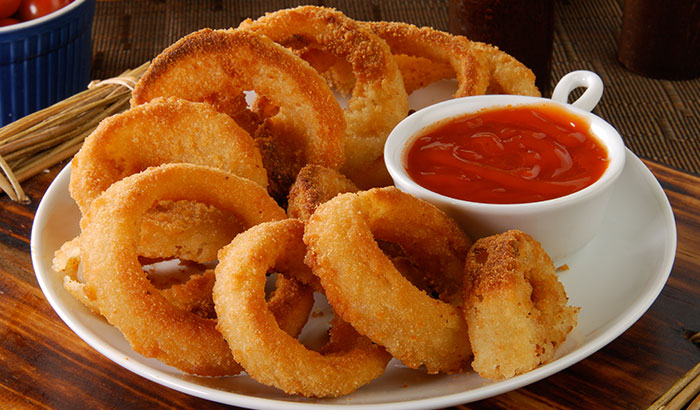 Onion rings are a favorite go-to side or appetizer for many fast-food connoisseurs thanks to their crispy texture and savory taste. 

These cross-sectional rings of onions are dipped in batter, then deep-fried or baked until crispy and golden brown. They're one of the most mouth-watering dishes out there. Most people don't know much more than that when it comes to onion rings, so we're here to fill you up and fill you in on some fun facts you may not know about these delicious bites.

Scroll on to learn some fun and interesting facts about these tasty rings below.

Things You May Not Know About Onion Rings

Onion rings first made their appearance in an ad for Crisco in a

New York Times

magazine that was published in 1933. The advertisement included a recipe for onions that are sliced, dipped in milk, dredged in flour, and then deep-fried.




Many restaurants claim to have invented this yummy snack. However, the exact origin of these rings remains unknown. We have two words to whoever invented the onion ring: THANK YOU!




The

United States is responsible for producing

more than two million metric tons of onions each year! It makes us proud to be part of an American tradition!




Speaking of America, Americans can't get enough of these delicious eats and consume 20 pounds of these deep-fried rings per person annually.




There are countless ways to enjoy these classic rings. Many people love dipping them in fry sauce or ketchup, while others opt for yogurt, sour cream, or a cheese-based sauce.




Onion rings aren't just sides for hamburgers—they pair well with beef, chicken, and fish dishes. We also don't mind eating them alone!




If you're experiencing post-onion breath, try eating fresh parsley to get rid of the scent. Keep this tip in your back pocket next time you take a secret solo trip to Iceberg Drive Inn and need to hide the evidence!




June 22nd is a day that is dedicated to onion rings each year, so mark your calendars! You know we'll be celebrating with our famous hand-breaded onion rings!




There are many takes on onion rings nowadays, including Funyuns, fried onions, the blooming onion, and more!




According to the

Guinness Book of World Records

, the largest onion ever grown was grown by V. Throup in Silsden, England, weighing in at a whopping 10 pounds and 14 ounces. Just think of all the onion rings that thing could have made!



Take a Drive to Iceberg Drive Inn

If you're craving Utah's favorite onion rings, take a drive to Iceberg Drive Inn today! Iceberg Drive Inn has been a family tradition for more than 55 years. We're famous for our Thick Shakes, Fries, and Hand-Breaded Onion Rings. We also proudly serve freshly cooked hamburgers, sandwiches, and other unique food items. 
Be sure to take a look at our menu and visit any one of our convenient Utah locations in Salt Lake City, Fillmore, Sandy, Syracuse, St. George, Riverton, and Pleasant Grove. One taste, and it's a tradition!