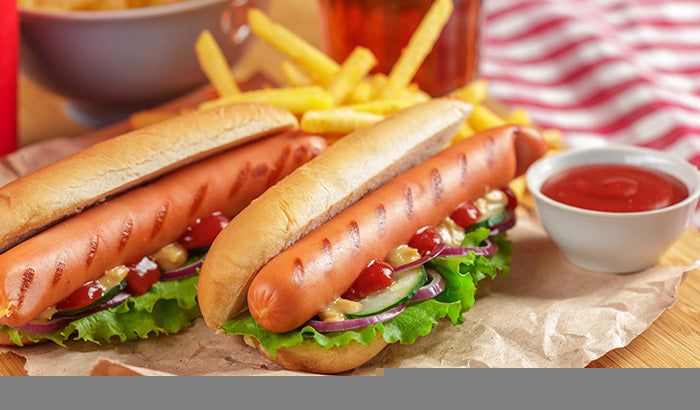 Summertime is one of the best times of the year, and hot dogs definitely belong on our summertime menu. Whether you're feeding an army or firing up the grill for a summer pool party, hot dogs are a great addition.
Nearly everyone is by the pool between Memorial Day and Labor Day. Whether you're going to sunbathe or connect with friends and family at a party, food is bound to come up. Did you know that 73% of Americans believe hot dogs are essential at a cookout? According to the National Hot Dog and Sausage Council, that's the truth. 
In line with summer, you probably think of ice cream, popsicles, ice-cold water, hot dogs, hamburgers, and other cold foods – foods that satisfy you without making you feel overly full, which you don't want before you get in the pool.
Today's blog is all about why you need hot dogs and other yummy summer foods on your summertime menu. You'll want to make these foods part of your next poolside party, for sure.
Keep reading to learn more! You'll be hungry by the time you reach the end!
Best Summer Foods 
While hot dogs are the main topic of today's blog, we aren't going to pretend they're the only perfect food for summertime. After all, who only eats one kind of food at a BBQ? A full plate with all the yummy food is more like it!
We think the best summer foods include:
Slushies

Ice cream 

Salad

Hamburgers

Hot dogs

French fries
Why are these the best summer foods? Let's dive into that below!
Minimal Cooking 
You might want a break from cooking anyway, but staying away from the stove in the summertime is a goal for anyone looking to keep cool while staying full. Save on your electric bill while still gathering your family around the table. 
But seriously, turning on your oven to cook meat is not ideal when it's hot outside. The heat your oven generates can quickly heat your kitchen and warm the rest of your home. This is the last thing you want. 
That's what makes these foods so ideal.
Making a salad involves chopping vegetables and pouring on salad dressing, but it doesn't involve the oven unless you're baking an ingredient. (If you do that, wait until it's cooler outside!) 
While burgers and hot dogs require cooking, they don't need an oven. You can cook them on your stove, which generates way less heat than your oven, or you can cook them outside. Your air fryer is also an option if you have one, not just for burgers and dogs, but for french fries, too. 
Health Benefits
Believe it or not, there are some health benefits to hot dogs! It's a common misconception that hot dogs are inferior to other meats, but this is not the case. 
Did you know that hot dogs are made of the same meats as steak and roast? The difference in appearance comes from how they're prepared. Hot dogs are finely ground and then mixed with spices to enhance the flavor palate. It's not uncommon to get a hot dog made of different meats. 
In fact, you might see "mechanically separated meat" on an ingredient list. That means no meat was wasted when forming your hot dog! Special machines are designed to remove meat from between bones in places that would typically go untouched. Hot dog meat is a great way to save what would otherwise go to waste. 
Plus, hot dogs are at least somewhat good for you. The hot dog you ate last week? It had the same nutritional value as other meat. That includes protein, vitamin B-12, zinc, niacin, and iron. One hot dog contains 190 calories, seven grams of protein, and 20% of that vitamin B-12 we just mentioned. 
Maybe you've got a picky eater on your hands. No problem – there are options. You can choose between pork and beef franks. There are even vegan or vegetarian options out there. And every hot dog brand comes with different flavors. So, if your kiddos don't like one brand of franks, try a different one. 
Hot Dog Condiments
Personally, we prefer our hot dogs with toppings. A plain dog isn't bad, but it's also not as good, you know? Your most basic toppings include mustard, ketchup, relish, and pickles. And these flavor combos work, but have you thought about getting fancier? 
You can make your hot dog as boujee as you want. Add bacon bits, sauteed bell pepper, and extra cheese for a punch of flavor. You could even add burger pieces for a bacon cheeseburger flavor combo. 
Try adding corn chips or coleslaw for a nice crunch. Other condiments include baked beans, bacon slices, avocado, etc. There are endless options, so you can enjoy hot dogs all summer long without getting sick of them. 
Try A Hot Dog From Iceberg Drive Inn.
The great thing about hot dogs is how easy they are to make and eat and how many restaurants sell them. Are you in a rush but need to feed your family? Head over to Iceberg Drive Inn. 
Iceberg Drive Inn is known for making fresh, yummy foods year-round. If you're looking for some food on a hot summer day, you're in the right place. We make everything fresh from scratch every day. We offer burgers, hot dogs, and milkshakes, to name just a few items on our menu.
We have locations all over Utah, including Fillmore, Sandy, St. George, Syracuse, Riverton, Pleasant Grove, and Santaquin. We offer convenient online ordering so you can swing through the drive-thru for your food. Or, come on in if you'd enjoy dining in a '60s retro-like diner. We'll provide whatever experience you're in the mood for. 
Hungry yet? We did promise you'd want food by the time you're done reading this! Check out our online menu based on your location, or grab your keys. It's time to eat!