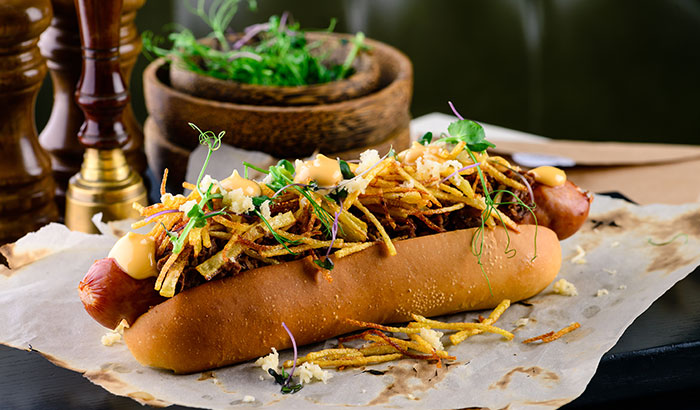 Hotdogs are one of America's favorite dishes. In fact, they are so popular that there is even proper hotdog etiquette.

The hotdog has been a part of American culture and history for more than 150 years and can be enjoyed in countless ways. On an oblong-shaped bun, you can place your grilled, steamed, or otherwise prepared dog and are served with various condiments, garnishes, and toppings. You may think there's really no "wrong" way to enjoy a hotdog, but there are a few bits of hotdog etiquette and protocol that you should know before you dig into your next hotdog meal.

Continue reading to learn more about hotdog etiquette below.

Everything You Need to Know About Hotdog Etiquette
You are probably well versed and understand societal etiquette, behaviors, and manners, but did you know that there's etiquette for hotdogs? Right from the mouth of the National Hotdog and Sausage Council, here are the dos and don'ts of hotdog etiquette:

Do
: 
Serve hotdogs with a variety of hotdog buns. Feel free to go hotdog-wild and try poppy seed buns, sun-dried tomato buns, sesame seed buns, and more. Always serve plain buns, too.

Keep your plateware casual; paper plates or everyday dishes are great, but your favorite china is not necessary.

Apply your condiments in the following order:

Wet Condiments, such as ketchup, chili, and mustard

Chunky Condiments, like relished, sauerkraut, and chopped onions

Shredded Cheese

Spices, such as pepper, celery salt, and more

Use multi-colored or cellophane-frill toothpicks to serve cocktail wieners, never cocktail forks.

Dig into your hotdog with your hands! You can definitely skip the utensils.

Always lick the remaining condiments off of your fingers. There's no need for napkins or a hand wash!



Don't
:
Don't forget there's never a wrong time to serve or eat hotdogs.

Don't dress your bun. You should never put your hotdog toppings and condiments directly on the bun; always "dress the dog!"

Don't use cloth napkins. If napkins are a must for you, skip the cloth napkin and opt for paper instead.

Don't take more than five bites to eat your hotdog. The standard hotdog should be consumed in five bites or fewer. Footlong dogs can be finished in seven bites.

Don't leave pieces of your bun on your plate — eat all of it!

Don't pair hotdogs with a pretentious drink. Keep it casual with soda, lemonade, water, or other low-key drinks.

Don't forget to thank your hotdog barbecue host, though a formal thank you card is unnecessary.



Test Out Your Hotdog Etiquette at Iceberg Drive Inn Today!
Now that you're ready to test out your hotdog etiquette make sure to stop by Iceberg Drive Inn today!
We are proud to serve crowd-favorite foods prepared with fresh ingredients at each of our 17 locations in Arizona, California, and Utah, including Salt Lake City, Pleasant Grove, St. George, Riverton, Fillmore, Sandy, and Syracuse. Make sure to take a look at our menu, order ahead online for quick and easy dining, and stop by today. One taste, and it's a tradition.