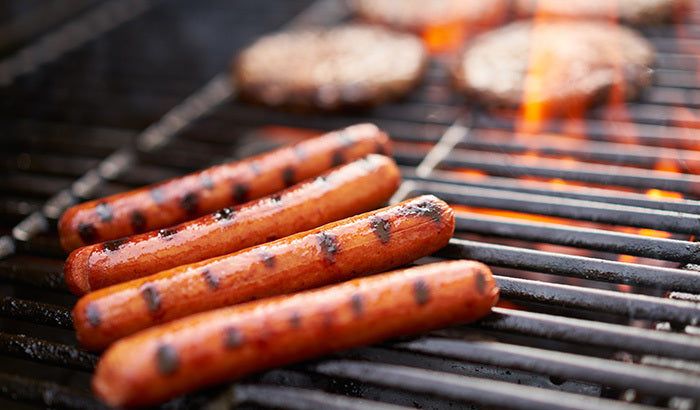 We all know hotdogs are synonymous with summer, but have you ever stopped to think about what makes them such an optimal summer food?
Love them or hate them, hotdogs are a ubiquitous part of summer. They're everywhere and a part of everything we associate with summer. Here are a few reasons. You'll never escape hotdogs in the warmer months, so you may as well grab one at your nearest stand, find some shade and start eating.
They're easy to eat one-handed
Summer is a season for action — hiking, playing sports, strolling through the park, dancing, or going to the fair. It's nice to not have to stop and find a seat every time you want to eat. You have a hotdog in one hand and a cold drink in the other. No need for a table, a lap, or even a plate. In a way, this makes hotdogs a great fitness food because they keep you moving.
You can make them a million different ways
Hotdogs are among the most versatile food you can eat, and it takes nothing to prepare them. They're not only tasty, but they're also super low maintenance. They're great with grill lines, charred over a fire, boiled, baked, or even microwaved in a pinch. You can eat them cut up with pasta, deep-fried with corn batter, straight from the roasting stick, and of course in a bun. 
The great thing about eating hotdogs in buns is that they give you plenty of room to add toppings. And the list of topping options is endless. People debate passionately about whether you should put ketchup or mustard on a hotdog. Maybe you're a fan of both. But that's just the beginning. You can literally put anything on a hotdog you like. More about this later.
They travel well
Along with being easy to cook, hotdogs can go wherever you go with little concern for space. They easily fit in a cooler in your car or in your backpack for an overnight hike. You can grab one ready to eat at a gas station or drive-through and eat as you ride. Hotdogs aren't just the perfect summer food, they're the perfect road food.
Every city has its own
Summer is the time when most people travel. So it doesn't seem like a coincidence that many cities in the US have their own favorite way of doing a hotdog. As mentioned before, people can be very passionate about the right way to eat a hotdog. And this just makes them more appealing.
In New York City, eat it with spicy brown mustard, sauerkraut, and maybe onions with tomato paste.

In San Francisco, the dogs are wrapped in bacon with lettuce, tomato, and creamy mayo.

Chicago style dogs come with fresh tomato, a pickle, hot peppers, sweet onions, and relish.

In Detroit, it's beefy chili, shredded cheddar, and raw onions.

In Phoenix, they wrap them in bacon, then pile up the pinto beans, onion, mustard, mayo, tomatoes, onions, and of course, jalapeños.
Is there a "right way" to eat a hotdog? That may be an impossible question to answer, or at least a dangerous one. But I will say having an iconic hotdog from whatever city you're visiting is essential to say you've actually experienced the essence of that city.
They're synonymous with a day at the stadium or amusement park
Why does everyone know that when you're at a game or an amusement park, you'll be eating a hotdog? True, it's because they're easy to eat with one hand, and they're easy to cook in a tiny stand, and it's easy to supply enough for an entire crowd. But it's more than that.
It's also woven into our culture. Hotdogs go with baseball and amusement parks. For some of us, it's literally impossible to enjoy a game without a hotdog in one hand and a drink in the other.
Summer holidays are nothing without hotdogs
Try to think about a 4th of July, Memorial Day, or Father's Day barbecue without hotdogs. Imagine fireworks or a big family get-together without them. Even if your first choice is a hamburger or steak on the grill, there's always room for one more hotdog. 
Along with potato salad, macaroni and cheese, and watermelon, hotdogs are the smell and taste of every kid's memory of summer celebrations. Frankfurters may have originated in Germany, but America is where they became hotdogs and took over the summer. 
Dietary restrictions, no problem
Many of us have dietary needs or preferences that might get in the way of enjoying a traditional hotdog. But that's no excuse. If you're Jewish, Hebrew National makes kosher hotdogs that some would say taste better than most other brands. Whether you prefer to eat kosher or not, you need to try them.
Suppose you prefer the all-natural option. Many hotdog brands offer a version without hormones, antibiotics, nitrates, and nitrites. The beef is promised to be humanely raised in a pasture, eating a natural diet of grass. Happy cows make great hotdogs.
Are you vegan? There are several plant-based hotdogs that won't leave you feeling like you're missing anything. Try the Field Roast Classic Smoked Plant Based Frankfurter. It's delicious. Many restaurants, including chain restaurants, are now offering vegan hotdog options on their menus as well.
Grab one to go from Iceberg Drive Inn
Summer is just better with a hotdog in your hand, and we'd love to grill one up fresh for you. Our favorite way to serve our footlong hotdog is to split it down the middle before searing it on the grill. Then we lay it on a toasted bun and throw your favorite condiments on. We won't judge you if you prefer mustard or ketchup.
At most Iceberg Drive Inn locations you can order online, and we'll have your hotdogs and shakes ready for you when you get here. Come on in and make the most of your summer!