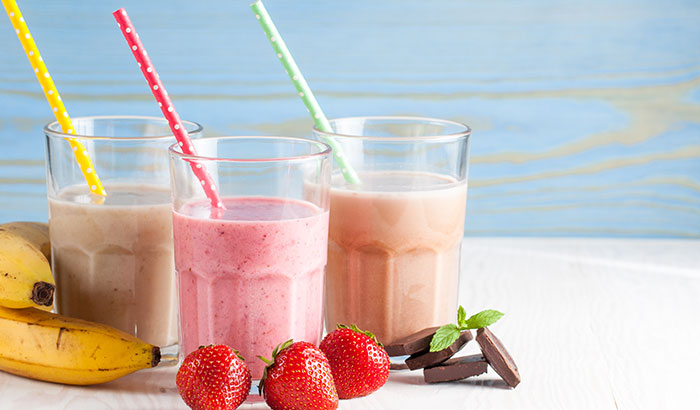 Ice cream is one of America's favorite go-to desserts. Of those tasty treats, there are many different milkshake flavors out there. 
Between classic flavors and fan favorites, we were somehow able to whittle our list down to the top seven favorite shake flavors in 2020. Now, choosing a favorite milkshake flavor is like asking us to choose our favorite child; we just can't do it. We love them all! So, the following milkshake flavors are in no particular order. 
Continue reading to find out which flavors made it into our top seven.

Chocolate

— Just about everyone can enjoy a good ole chocolate shake. For chocoholics really wanting to take it to the next level, bring in extra chocolate bits and flavor to your shake by adding chocolate chips, hot fudge, brownies, rocky road, german chocolate, or some of everyone's favorite chocolate candy bars, Snickers, Reese's, or Heath Bars.




Banana

— The light yet satisfying taste of a banana milkshake is unbeatable. Banana flavored shakes are a much healthier option than other flavors and pairs well with numerous different flavors like chocolate, peanut butter, strawberry, caramel, and raspberry. You can count on the bananas in our shakes—and any of our ingredients for that matter—to be fresh.




Cookies and Cream

— The classic cookies and cream flavor may top the charts. There's something about the crunchy texture the cookies add and how the cream perfectly pairs with the vanilla ice cream flavor that just leaves you wanting more. This sweet treat is loved by all and a flavor that continues to stand the test of time.




Grasshopper

— This classic mix of mint and chocolate or vanilla is a flavor that's good year-round. This tasty treat will leave you feeling light, fresh, and ready for more!




Strawberry

— Strawberry shakes are classic, simple, and delicious. For a spin on the traditional and classic Strawberry flavor, try blueberry, red or black raspberry, or boysenberry. If the options are too good to make up your mind, you may want to opt for our triple berry milkshake.




Peanut Butter

— Whether your milkshake base is chocolate or vanilla, a peanut butter addition can't go wrong! Next time, for a satisfying variation, try adding some Butterfinger or banana to your peanut butter shake.




Caramel Cashew

— Is there a better pairing than caramel and

cashews

? If cashews aren't your thing, then try any one of our other nuts: macadamia, almonds, pecans, praline, or pistachio.



Stop by Iceberg Drive Inn Today!

Now that your mouth is sufficiently watering make sure to stop by Iceberg Drive Inn and try one (or all) of the flavors of our fresh, famous thick shakes. With nearly 50 different milkshake flavors to choose from, you're sure to find your favorite. Our shakes pair well with any of our menu items, such as our handmade onion rings or cheeseburger.
Make sure to take a look at our delicious menu and make yourself at home at any one of our convenient Utah locations: Salt Lake City, Fillmore, Sandy, Syracuse, St. George, Riverton, and Pleasant Grove. One taste, and it's a tradition.