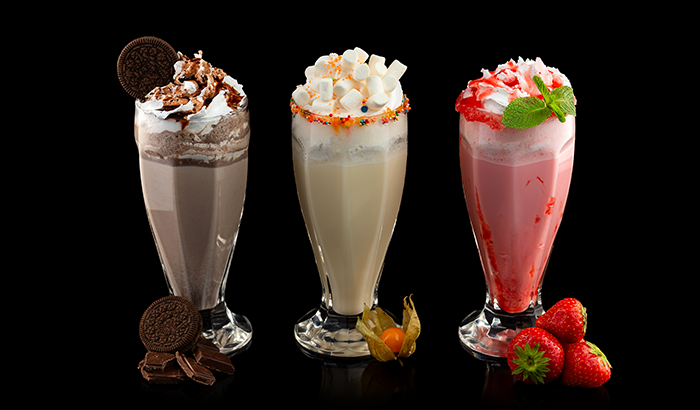 A milkshake is a perfect treat if you're craving something sweet, but how do you choose your mix-ins when there are so many options? Vanilla or chocolate? What about peanut butter or Oreos? 
The options are endless, and it's easy to get stuck trying to decide, but don't worry. Let's look at some perfect mix-ins to help you decide what to get next time you're craving a treat.
Cookies and Creme 
Are you craving something simple that still offers texture and flavor? The classic cookies and creme milkshake is an excellent option if you love vanilla ice cream but want something extra to enjoy. It's soft yet crunchy and simply delectable. 
A yummy twist is to switch up which cookies you use. Oreos are traditional, but any cookie can go into a milkshake to give you the same texture with a new flavor. Try chocolate chip, vanilla wafers, or even brownies.
Chocolate Swirl
This milkshake is made from vanilla ice cream and has chocolate syrup. A chocolate swirl is a great choice, but you can also mix it with a different syrup flavor or ice cream base. That's the fun part about milkshake mix-ins. You can mix and match to find the perfect flavor to match your mood.
Chocolate-Chocolate 
This milkshake comes with different names, and there are various ways to make it. But one thing about it never changes–it's full of chocolate. 
Options are endless. You could choose chocolate ice cream with chocolate syrup or brownie. You can use chocolate and German chocolate ice cream together or throw in nuts and sprinkles.
Peanut Butter
The great thing about peanut butter is that you can pick vanilla or chocolate ice cream for your base. It just depends on what you're feeling! You can also switch out the peanut butter for almond fudge or caramel praline.
Mint Chocolate 
Mint chocolate is the best. The chocolate offers the perfect amount of sweetness, and the mint adds a delicious but light flavor to the shake. Don't see "Mint Chocolate" on the menu? An easy fix is to request mint and chocolate separately. 
Candy Flavored
We could talk about mix-ins all day long, but let's face it–nothing beats a candy-flavored milkshake. You have complete control. Once you've chosen your base, select what candy you want. Snickers, Butterfinger, or Almond Joy candy pieces are popular options. 
Iceberg Drive Inn
Iceberg Drive Inn has been around for over 60 years. We offer milkshakes, burgers, onion rings, zucchini strips, and more. We're known for making everything from scratch–including our milkshakes. With endless ice cream options and mix-in flavors, you're sure to find the right combo to satisfy your taste buds. 
Come by one of our locations, and see what the hype is about! We have locations in Salt Lake City, Fillmore, Sandy, St. George, Syracuse, Riverton, Pleasant Grove, and Santaquin. We also offer online ordering for your convenience. Have questions? Contact us! We'd love to hear from you.