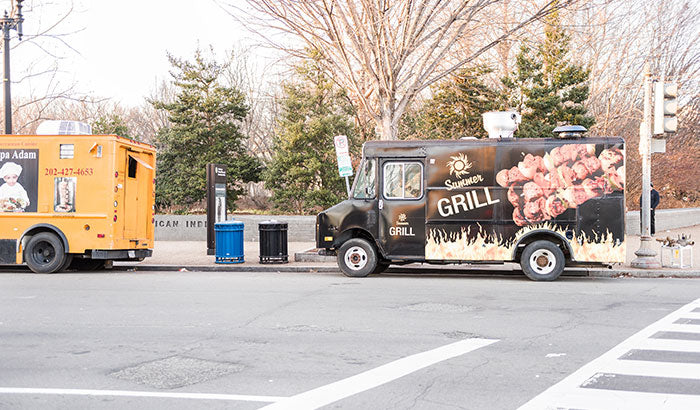 Food trucks: delicious meals on wheels, the experience, convenience, and affordability—what isn't to love?!

Over the last few years, you have probably noticed a huge surge in these trucks in your area. Food trucks are incredibly popular and for many reasons. Mouth-watering food right at your fingertips—of course, they're popular! We're going to take a quick deep dive into these special trucks and why they are so loved.

Keep scrolling to learn more.

A Brief History of Food Trucks 

Street food dates way back to the 17th century when living conditions were cramped and didn't offer many ways for people to cook for themselves. Vendors sold food from carts and street kitchens, and the tradition hasn't stopped. Historically, food trucks and carts offered quick and easy-to-make foods in urban areas. While most people have better access to kitchens where they can prepare their own meals, people are still opting for these unique trucks.

4 Reasons Why Food Trucks Are Popular

Fast, Convenient, and Easy — If you're in a rush, food trucks can get you the quick bite you're looking for. Or, if you want the full-blown dinner experience, you can have that, too! Food trucks work hard to get you your food fast. Eat it on the go, or sit down at a nearby bench and enjoy! These trucks are incredibly accessible, making them a convenient choice for lunch, dinner, or on-the-go-snack. Food truck lines can look long, but they are shockingly efficient and put out their food fast! You'll have your meal in your hands in no time!

Priced Right — One major perk of a food truck is that the food is affordable. Many restaurant menu items start at $30 or more. You can get a lot more bang for your buck at a food truck, and you won't have to sacrifice on taste.

Enjoy the Experience — While sitting down in a restaurant is great, there's just something about the experience that food trucks offer — the atmosphere, being outdoors, the company, the surrounding scenery. The food truck experience is very memorable and one you'll want to have on the regular!
Delicious Food — Likely the biggest reason we cannot get enough of these awesome trucks is the mouth-watering food. Why go to the nearest fast-food eatery when you can get freshly cooked, made-to-order food?! 

Love Food Trucks? Contact Iceberg Drive Inn Today

If you love food trucks and delicious food, contact the catering team at Iceberg Drive Inn today to book the Shake Truck for your next family party or company or community event in Utah. We are excited to bring our Famous Thick Shakes, freshly cooked cheeseburgers, and fries to you. Whether you just want shakes or are looking for the entire Iceberg experience, we have an option for you. Contact Iceberg Drive Inn to learn more about pricing and availability.

For moments when the food truck is already booked, head to your nearest Iceberg Drive Inn restaurant located in California, Arizona, and Utah, including Salt Lake City, Sandy, Riverton, Pleasant Grove, Syracuse, Fillmore, and St. George. One taste, and it's a tradition.