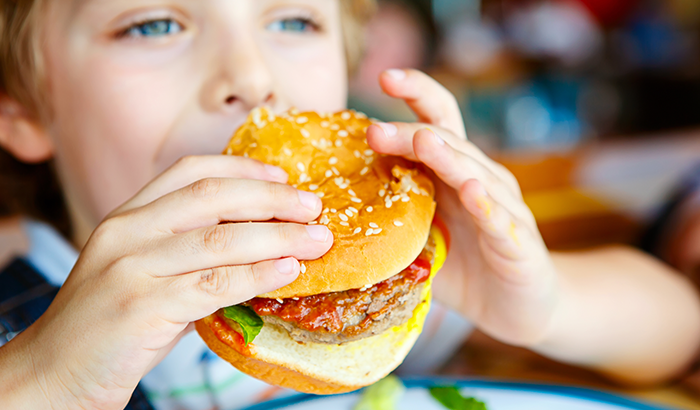 The best sides to eat with your hamburger depend on your tastebuds and favorite flavor combinations. Whether you love spicy, sweet, savory, or a variety of flavors, you can get a mouthwatering meal that leaves you satisfied for hours to come.
Eating a burger is about more than just what's in your hand. You have the bun, the patty, and your toppings and condiments. Combine them just right for a bold flavor, and then pick a side to complete the experience. Burgers, fries, and milkshakes are some of America's favorite meals for a reason. 
But what are the best sides to eat with your hamburger? Don't worry; we've got you. That's what we're talking about today. Get ready for a mouthwatering experience that has you headed to the drive-thru for a yummy meal! 
The Perfect Burger
If you're thinking about the best sides to eat with your hamburger, chances are you're eating a burger. Before we dive into the sides, we want to take a moment to appreciate the hamburger in all its juicy, flavorful goodness. 
We think the perfect burger is cooked to perfection on the grill before being placed on a buttery, toasted bun that's waiting for toppings. Let's face it. A plain burger isn't nearly as good as a burger with toppings. Everyone has different tastes, but lettuce, tomatoes, and onions are popular burger toppings. 
Some burgers are super fancy with fried onion rings in the burger instead of on the side. Others include sliced meat and cheese in addition to the burger. And, of course, you'll have to decide whether you're team hamburger or cheeseburger. 
Fries
Obviously, the number one side to go with a hamburger is fries. Crispy, fried and flavorful, and dipped in sauce, french fries perfectly complement the burger's flavor. A burger is hardly complete without them. 
The dipping sauces can add to the flavor, but so can switching up what kind of fries you get. Ever tried spicy fries or ranch fries? They'll majorly up your flavor game. Or you can opt for a healthier option–sweet potato fries. These come with a different flavor while still bringing the french fry experience to the table.
No matter what kind of fries you get, be sure to get a dipping sauce that compliments them. Some sides only taste good with specific dipping sauces. But fries are truly versatile. Choose from ketchup, fry sauce, BBQ, ranch, honey mustard, tartar sauce, sweet and sour, mustard, or marinara sauce. Any of these sauces will add to your meal's tastiness. 
Onion Rings
Onion rings–a close second to fries– are one of the greatest foods to have with your burger. Who doesn't love fried, hand-breaded onion rings? They're crispy, golden, and sure to satisfy your taste buds. They'll also cover your fingers in grease, so you'll want to keep napkins on hand! 
Don't forget about your dipping sauces. Options include ketchup, fry sauce, BBQ, ranch, honey mustard, tartar sauce, sweet and sour, mustard, or marinara sauce. There's a perfect flavor combination for every taste bud. 
Can't decide between fries and onion rings? Get both! Enjoy the flavors of both sides. It's a treat, you know? 
Zucchini Strips
Zucchini strips are another fried favorite of ours. Who doesn't love a vegetable that's fried to perfection with breadcrumbs? Plus, zucchini strips are another healthier-ish option for your typical fast food meal. 
Zucchini strips were practically made for dipping. Ranch, honey mustard, and marinara sauces are classic choices, but sometimes the unconventional is a big winner. Try ketchup, fry sauce, BBQ, tartar sauce, or sweet and sour for a unique flavor experience.
Tots
Tots are another fantastic way to enjoy potatoes. If you prefer your potatoes crunchy on the outside but light and fluffy on the inside, you should try tots. Variations of the classic tater tots include ranch tots and cajun tots–if you'd like a flavorful kick with each bite.
Tots are a little harder to dip in dipping sauce just because they're smaller, but we still recommend it to enhance your flavor experience. Whether you like it sweet, savory, or spicy, there's a dipping sauce for you. 
Pickle Chips
Pickle chips are a fun change if you're looking for something savory and full of flavor, but you aren't quite in the mood for fries or onion rings. Pickle chips are cross-cut to form rounds, then breaded and deep-fried. 
Your favorite dipping sauces pair well with and enhance fried pickle chips' sweet and tangy flavor. Try them with fry sauce or sweet and sour sauce to try something new. Or go classic with marinara or ranch. No matter what you choose, you can't go wrong with some tasty pickle chips! 
Mozz Sticks
Last but not least, we have the classic mozzarella stick. This side is full of cheesy, ooey-gooey, pull-apart goodness that's sure to satisfy your cravings. The crispy outside contrasts deductible with the sweet cheesiness under the surface.
Paired with your favorite dipping sauce and burger, this will make one tasty meal. We personally love marinara with ours. 
Iceberg Drive Inn
No matter what you're in the mood for, Iceberg Drive Inn has the best sides to eat with your hamburger. Our mouth-watering menu is sure to have something you'll love. We offer everything this blog mentions–fries, onion rings, zucchini strips, tots, pickle chips, and mozz sticks. 
We also have the burgers to go with the sides! Iceberg Drive Inn takes a great deal of pride in handcrafting everything on our menu. Our food is made fresh from scratch every day, from our burgers to the lettuce that goes on them. We never make anything frozen. 
Iceberg Drive Inn has been around since 1960 and has multiple locations across Utah. You can
order online
, and your meal will be ready when you arrive! Visit us in Fillmore, Sandy, St. George, Syracuse, Riverton, Pleasant Grove, Santaquin, or Salt Lake City for a hometown experience that will bring you back again and again.