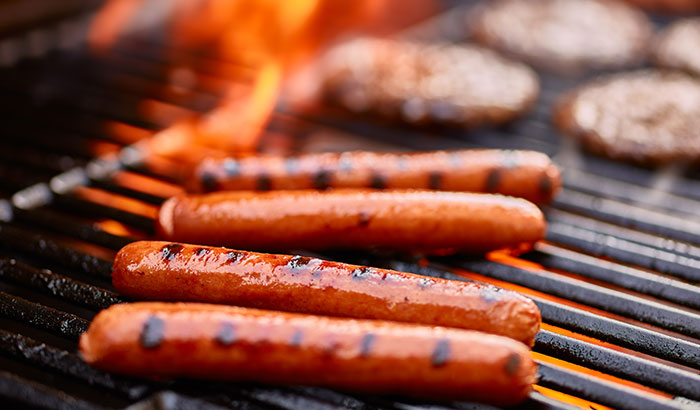 Hot dogs are an American staple and favorite dish among those both young and old, and they're especially popular in the summer.
The hot dog is believed to have been a part of American history since the 1860s when a German immigrant sold hot dogs out of a food cart in New York, and another German immigrant set up the first hot dog stand in 1870 on Coney Island. Since then, this delicious food time has made its way across our nation, leaving its mark all along the way. The hot dog is incredibly diverse and can be enjoyed in many ways, and today, we're diving in and looking at all the best ways to eat a hot dog.
Continue scrolling to read more.
The Best Ways to Cook Hot Dogs
There are several ways to cook a hot dog that make for good eating!
Grilling —
Light the grill and throw on some dogs!
Roasting —
Nothing says "summer" like roasting a hot dog over an open fire!
Boiling —
One of the most common ways to heat up your hot dog is to boil it on your stove.
The Best Toppings for Hot Dogs
There is no right or wrong way to enjoy a hot dog, just countless variations and ways to indulge. Here are a handful of the most common and popular ways to eat a hot dog:
Basic Condiments —
Ketchup, mayo, relish, and mustard. These are typical toppings that we all know and love. Whether you top your hot dog with one or all of these, you know it's going to be good!
Chili —
Everybody loves a good, old-fashioned chili dog!
Grilled Pineapple —
Let your dog transport you to another place — Hawaii — by adding grilled pineapple, teriyaki sauce, and red onions.
Everything But the Bagel Seasoning —
Doesn't this spice go with everything?! A hot dog is no different.
Spice Level: HOT —
For some heat, add your favorite spicy items, like sriracha, jalapeños, or Cajun spices.
Pickled Goods —
Pickled carrots, cucumbers, cabbage, peppers, or just about anything else you can pickle make great hot dog toppings.
The Best Sides to Serve with Hot Dogs
Hot dogs alone are perfect, but we're not going to say no to an excellent side dish! Here are some sides that complement your main course:
Fried Food —
Our very favorite, french fries and onion rings! The very best combo you can imagine. If you can't have fries or onion rings, your favorite flavor of chips will do!
Watermelon —
Watermelon and other fruit are a great way to freshen up your meal.
Corn on the Cob —
Now our mouths are really watering! Grilled, baked, or boiled corn on the cob pairs well with a delightful hot dog.
The Best Hot Dogs Are at Iceberg Drive Inn 
If you want the best of the best hot dogs, make your way to Iceberg Drive Inn. 
We proudly serve crowd-favorite foods using fresh ingredients at each of our 17 locations in Arizona, California, and Utah, including Salt Lake City, Riverton, Pleasant Grove, St. George, Fillmore, Sandy, Syracuse. Be sure to check out our menu and stop by today. One taste, and it's a tradition.