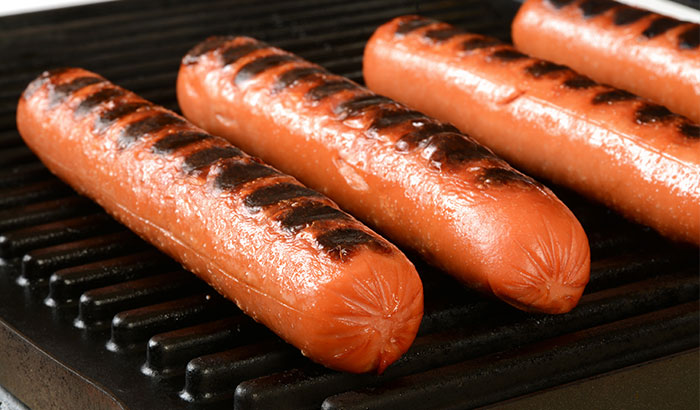 Like the hamburger, the history of hot dogs consists of conflicting stories. But we're here to tell you what we do know.

Hot dogs are a delicious snack or meal that is enjoyed all over the world. A hot dog features a sliced oblong bun with a grilled or steamed sausage sandwiched between either side. Hot dogs can be prepared in countless ways, but their condiments typically consist of mustard, ketchup, relish, and mayonnaise. Common toppings and garnishes include sauerkraut, chili, onions, olives, jalapeños, coleslaw, grated cheese, and bacon. 

Learn more about the history of hot dogs below.

The History of Hot Dogs

The hot dog is one of America's favorite dishes, though it is not native to the United States. Long before the hot dog became a quintessential baseball meal in the US, it has quite the history. Some believe hot dogs date way back to 700 BC and make an appearance in Homer's Iliad, The Odyssey. While others believe the very first sausage was not created until 8,000 years later. 

The story goes that in the 1st century AD, Emperor Nero's chef, Gaius, stabbed a sharp knife into a roasted pig that wasn't not completely cleaned out, and the emptied, puffed up intestines dropped to the ground. Legend has it, he was pleased with his discovery and stuffed the casing with ground meats and a variety of spices. Over the next centuries, Gaius' creation made its way across Europe, specifically Germany, where the hot dog was adopted as the country's own and is a staple in their cuisine. So, how did this delectable dish make its way from Europe to the United States?

Hot Dogs and the United States

Many German immigrants came to America in the 1800s, and with them came their great culinary traditions and recipes, including the hot dog. It is said that a German immigrant sold America's first hot dogs out of a food cart in the 1860s in New York. A different German immigrant, Charles Feltman, opened the first hot dog stand on Coney Island around 1870, where he sold more than 3,600 hot dogs in his first year. From there, the hot dog trickled across the nation, making a big mark and becoming an American baseball snack and a staple at BBQ and 4th of July celebrations.

The Origin of the Hot Dog's Name

Another greatly disputed topic is how the hot dog got its name. One amusing claim is that the title was coined on a cold April day at the New York Polo Grounds in 1901. Wandering vendors were throwing hot dogs from their portable hot water tanks, calling out, "Get your dachshund sausages while they're red-hot!" A cartoonist for the New York Journal, Tad Dorgan, watched this all unfold and took the opportunity to draw a cartoon of barking dachshund sausages cozied up in their warm hot dog buns. Unsure of how to spell "dachshund," he wrote, "hot dog." Others report that since hot dogs come from Germany and sausages resemble German's small, thin, and long pups, the dachshund. 

Satisfy Your Hot Dog Craving at Iceberg Drive Inn

All this talk about the history of hot dogs has us wanting a hot dog from Iceberg Drive Inn.

Enjoy our fresh and tasty burgers, sandwiches, hot dogs, and Famous Thick Shakes at any of our 17 locations in California, Arizona, and Utah, including Salt Lake City, Syracuse, Riverton, Sandy, Pleasant Grove, Fillmore, and St. George. 
Check out our menu
 and stop by today. One taste, and it's a tradition.