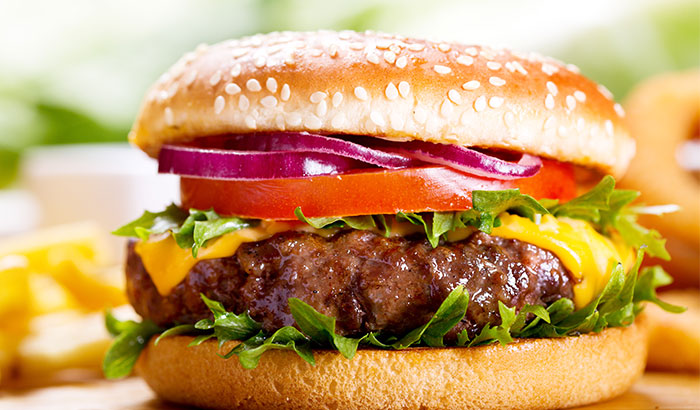 The history of the hamburger is a much disputed and discussed topic, but as the experts, we're here to provide you with some insights. 

The hamburger, often shortened to "burger," is an American staple dish that consists of a cooked ground meat patty, most often beef, and placed between a bun sliced in half. They are often served with many different condiments, like ketchup, mayonnaise, mustard, and other toppings like tomato, onion, lettuce, cheese, pickles, and more. 

But where did the delectable burger originate? Continue reading to find out.

The History of the Hamburger

As we mentioned above, the origin and history of the hamburger are often debated. There are many claims to be the original creator of the hamburger. But the seemingly first hamburger in America is thanks to Fletcher Davis, a cook from Athens, Texas, according to the Texas historian, Frank X. Tolbert. Fletcher Davis opened a lunch counter in the 1880s where he served a burger with a beef patty, mustard, and onions between two slices of bread. He and his wife, Ciddy, brought his invention to the St. Louis World's Fair in 1904.

The Hamburger Name

According to the Food Lovers Companion, the name "hamburger" comes from the city in Germany, Hamburg. It is believed that 19th-century sailors brought back the idea of raw shredded beef (commonly known as beef tartare today) after trading with Russia's Baltic provinces.

The Hamburger Bun

The hamburger wasn't always served on a roll or a bun. Because of this, some people do not consider the early hamburgers served between two slices of bread to be hamburgers at all! It wasn't until 1916 that the hamburger bun was invented by a fry cook named Walter Anderson, who went on to co-found White Castle in 1921.

Variations on the Theme

Nowadays, there are countless variations on the hamburger:

Condiments include the standard ketchup, mayo, and mustard but are now accompanied by barbecue or teriyaki sauce, a restaurant's "signature sauce," fry sauce, salad dressings, relish, and more.





Hamburgers are topped with various kinds of cheese, often cheddar, pepper jack, Swiss, or bleu cheese. Take your hamburgers to the next level by topping them with gourmet cheeses like Gruyere, goat cheese, gouda, or brie.





In addition to the popular toppings for burgers, today's toppings include fried eggs, sautéed mushrooms and onions, pineapple, jalapeños, onion rings, other meats like bacon or pastrami, and more.





Some burgers are served "all the way," or with "the works," which means they are served with all available toppings, while other hamburgers are enjoyed with fewer ingredients.





Patties are not limited to beef; they can be made of any ground meat like bison or turkey.





Burgers can be prepared to "take you" to a specific region or place in the world. For example, a Hawaiian-inspired hamburger might be topped with grilled pineapple, ham slice, and a teriyaki-flavored meat patty, or a Southwest hamburger might have green chilies, pepper jack cheese, and avocado salsa.



Stop By Iceberg Drive Inn Today!

With the history of the hamburger under your belt, you're probably craving an out-of-this-world burger from Iceberg Drive Inn. Enjoy any of our burgers, and Famous Thick Shakes at one of our 17 Iceberg locations in California, Arizona, and Utah, including Salt Lake City, Syracuse, Riverton, Sandy, Pleasant Grove, Fillmore, and St. George. Take a 
look at our menu
 and stop by today.