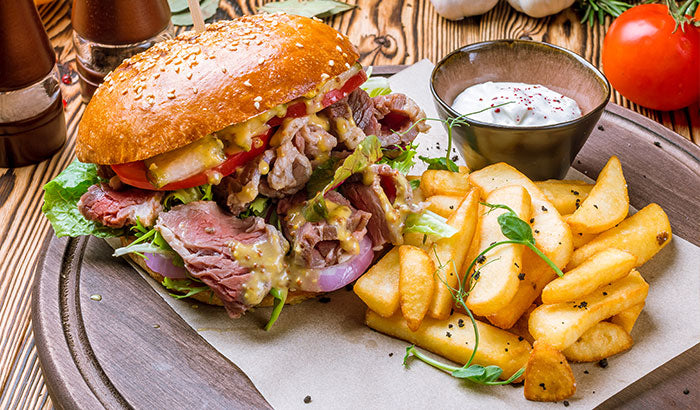 If you think fry sauce is a big deal in Utah, maybe you've never tried or heard of the pastrami burger. Prepare to drool.

Imagine a perfectly cooked hamburger topped with your favorite condiments and finishings: crisp lettuce, fresh onions, melty cheese, ripe tomatoes, ketchup, mayo, and whatever else you'd like. It doesn't get much better than that, right? — or does it? Enter the pastrami burger. While the simple addition of pastrami to your favorite burger might not seem like a big deal, it really takes your hamburger to the next level — maybe even two levels.

Have you ever tasted a pastrami burger? Regardless of your answer, continue reading below to learn why they are such a big deal in Utah.

The Origin of the Famous Pastrami Burger

Pastrami burgers are a particularly big deal in Utah, despite their origin story in Anaheim, California. These delicious hamburgers were perfected in the Beehive State at a number of favorite fast-food restaurants, including, yours truly, Iceberg Drive Inn. Here's the story:

The beloved burger was invented by James Katsanevas, a Greek man who started a restaurant called Minos Burgers in Southern California that has since closed. In the early 1970s, Katsanevas began serving the specialized hamburger as pastrami was brought from the East Coast to the West by Jewish people that made their way over the mid-20th Century. Nearly a decade later, Katsanevas moved to the capital of Utah, Salt Lake City, and brought along his fan-favorite burger. From there, James Katsanevas opened a new restaurant, shared his wisdom, and Utahans went wild for it. 

Now, keep in mind that not all pastrami burgers are created equally. While you can find a pastrami hamburger in a multitude of places, you'll definitely want to stick to the best: Iceberg Drive Inn.

How to Complete Your Pastrami Burger Meal at Iceberg Drive Inn

While a well-made burger is good on its own, there are a few things you can do to elevate your entire eating experience at Iceberg Drive Inn. Along with your burger, you might want to consider adding an order (or two — we don't judge!) of hand-breaded onion rings or hot and crispy french fries. Next, you'll want to get your favorite cold beverage, whether that means an icy cup of your soda of choice or upgrading to one of our Famous Thick Shakes in your go-to flavor. Now, your burger meal is complete.

Stop By Iceberg Drive Inn Today for Your Favorite Pastrami Burger

If you're looking for the best of the best pastrami burger, look no further than that at Iceberg Drive Inn. Like everything else on our menu, our pastrami burgers are fresh, hot, delicious, and created with customers like you in mind. For quick and easy service, check out our menu and convenient ordering process online or stop by any of our locations in Arizona, California, or Utah, including Syracuse, Salt Lake City, Sandy, Riverton, Pleasant Grove, Fillmore, and St. George. One taste, and it's a tradition.