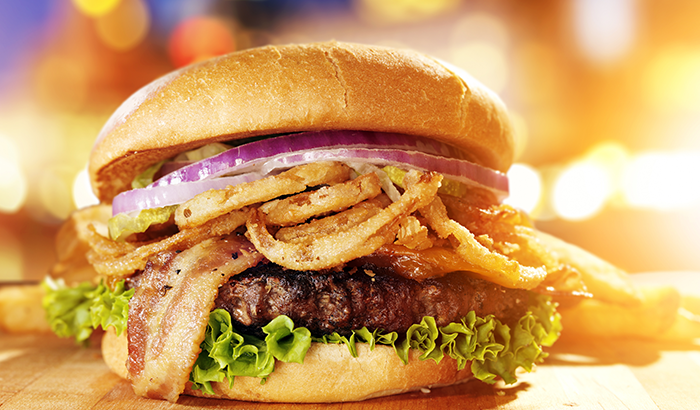 Elevate your meal when you top your hamburger with any (or all!) of these five favorite and mouth-watering toppings.

Burgers are a classic American dish and the ultimate cookout food. But, "classic" and "ultimate" doesn't have to mean that it's boring or basic! Of course, there's nothing wrong with the standard tomato, raw onion, and lettuce; we're just saying there are a few other ways you can dress up your burger and take it to the next level.

Continue scrolling to learn about our top five favorite burger toppings.

5 Favorite Hamburger Toppings

Tired of your basic burger toppings? Here are some toppings that will level up your hamburger:

Bacon

 — When in doubt, add some bacon! Is there anything better than bacon? We're thinking, "No!" The bacon flavor packs a punch. Ask for your bacon extra-crispy for an even tastier experience so that every bite has a satisfying crunch.



Pastrami

 — Think about your favorite burger topped with your favorite condiments and finishings: crisp lettuce, melty cheese, fresh onions, ripe tomatoes, mayo, ketchup, and all of your other favorite fixings. Hard to beat that, right? Enter the pastrami burger. While the simple addition of pastrami to your favorite burger might not seem like much, it takes your hamburger to the next level — maybe even two or three levels.



Cheese

 — Adding cheese to your favorite burger is nothing groundbreaking. But we would be remiss if we failed to include it on our list. Cheese is full of flavor and tang that perfectly complements the other ingredients topped on your burger. You can't go wrong with classic cheddar or Swiss cheese. Or, for a more elevated and flavorful experience, try Bleu, or Gruyere, or Goat cheese.



Sautéed Mushrooms and Onions

 — There's something special about caramelized onions and earthy mushrooms on a burger. Especially when they're

sautéed

in flavorful butter and topped on your favorite kind of cheese, our mouths are sufficiently watering!



Fried Egg

 — Are you an egg lover? Then this one's for you. A fried egg with the yolk still runny makes just about anything better; burgers are no exception. It may be the 'Foodie' in us, but when that yolk breaks and seeps into the perfectly cooked beef … it makes for a heavenly combination of textures and tastes in every bite.



Craving a Hamburger? Stop By Iceberg Drive Inn Today!

Are you ready to indulge in your favorite hamburger? Make sure to swing by your local Iceberg Drive Inn today!

Whether you have a craving for a burger, sandwich, hotdog, or other mouth-watering food and sides, we've got your back at Iceberg Drive Inn. We have proudly served everyone's favorite dishes prepared with fresh ingredients for more than 60 years at each of our 17 locations in Arizona, California, and Utah, including the original Salt Lake City location and Syracuse, Sandy, Pleasant Grove, Riverton, Fillmore, St. George, and inside the Vivint Smart Home Arena. Browse our online menu and stop by today. One taste, and it's a tradition.