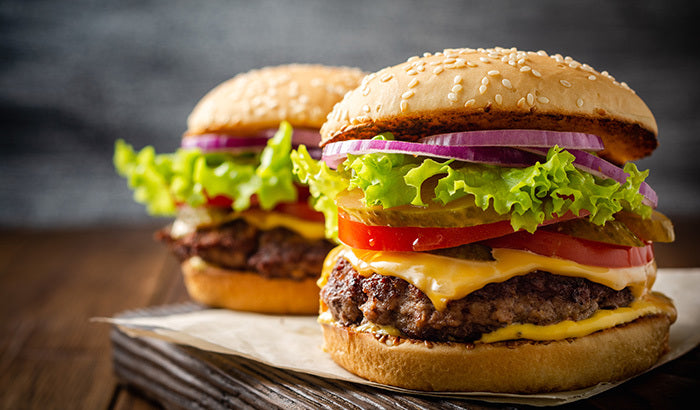 An American classic and staple on many menus, burgers are a top choice for dinner for multiple reasons. There is an option for everyone, from your traditional burger and fries with a shake to healthier versions. 
Is your mouth watering at the thought of a perfectly juicy burger full of flavor to satisfy your cravings? Keep reading to learn all the reasons why you should have burgers for dinner tonight; then, show this blog to your significant other to convince them to go with you! Date night and burgers together? Yes, please!
Customizable and Budget-Friendly
Unless you're looking for the most boujee burger menu in Hollywood, chances are a burger will fit your budget. You can also customize what kind of burger you want so you're not stuck with toppings or ingredients you don't want to eat. You can even double the patties with a slice of cheese in between for extra-gooey goodness. 
Many fast-food joints offer combos, so you can get fries and a drink or shake for a discounted price. For example, it might cost just a couple of extra dollars to upgrade your meal from a burger to a burger combo. It's super easy to make it a nice, filling meal that will keep you satisfied until tomorrow! 
A Fast Option
Burgers are super easy to make; all you have to do is mold the beef into a patty shape and grill it until it's reached 165 degrees internally (you know, to avoid poisoning). You can have dinner ready for the whole family in minutes, especially if you cook on a grill. 
Slice up an onion and tomato, pull out the lettuce, and grab some sliced cheese and condiments while your burgers are on the grill. So, if you've got a full schedule, add beef and toppings to your grocery list. 
Or, better yet, run through the drive-thru, so you don't have to cook it yourself! (Because some nights are just like that!) 
Nutrition Facts
Burgers are fast and easy, but what if you're on a diet? Can you eat one without packing on the pounds? The answer is yes, and we'll elaborate more on that in the next section. But right now, we want to look at the nutrition facts label that's usually only available on fast food joint websites. (Calories are the only nutrition facts listed on most drive-thru menus.)
Did you know that burgers are a good source of protein, iron, and vitamin B12? And if you have a lean burger with a whole wheat bun, you eliminate some of the health issues you might typically have. Sticking with a healthy portion is also key — a four-ounce serving size is recommended. 
The USDA says that a burger (by itself on a bun with no condiments) contains the following:
266 calories.

10.1g of fat.

396mg of sodium.

30.3g of carbs.

1.1g of fiber.

5.2g of sugar.

13.3g of protein.
That's not bad! We can think of some foods with a lot more calories, fat, and sodium than that! 
Healthy Burger Options
Some days you want a perfectly greasy burger with a side of fries and a soda to sip. It hits the spot, and you get a solid nap in afterward. 
But a greasy burger is more of a treat, so it might not be your first idea when it comes to dinner tonight. Did you know that it's possible to make a healthy burger? Yep, you heard us right! You can take a few steps to make tonight's dinner tasty and healthy if you make it at home. Again, no shame if you go through the drive-thru!
Buy lean beef and

blend it

with other ingredients. Lean beef is way healthier for you than full-fat beef, but not everyone likes it because it dries out quickly. But we have a solution for you!




Blend your beef with a mushroom and onion puree; this will keep your beef soft and tender while cutting down on the fat and calories you're trying to avoid! A pro tip is to put your beef patties in the fridge overnight before you grill them up. They'll be even softer from marinating in the mushroom-onion puree.




A burger is best served with a bun, right? An easy, healthy upgrade is to put your patty on a healthier bun. Whole wheat or whole grain bun options are a great alternative to your traditional white bread.




If you're gluten-free or not a fan of burger buns, try a lettuce-wrapped burger or a burger salad. After grilling up your burgers, plate yours with lettuce, tomato, onions, and cheese for a yummy burger salad. You can enjoy a 100% guilt-free dinner!




Burger toppings make all the difference. But if it's more about flavor for you, you might limit those and focus on spices and condiments instead. Try ketchup or mustard instead of mayo. You also can't go wrong with lettuce, tomato, pickles, or raw onion. They are veggies, after all! 
Iceberg Drive Inn
Have we convinced you that burgers are the perfect choice for dinner tonight? Good. They really are. Now let us talk you into coming to Iceberg Drive Inn for yours! Whether you're looking for the greasiest, juiciest burger you can get your hands on or looking for a healthier option, Iceberg Drive Inn can handle the stress of dinner. Seriously, we flip burgers all day, every day. 
With locations across Utah, Iceberg Drive Inn is sure to be close to your house or work. Come see us in Salt Lake City, Fillmore, Sandy, St. George, Syracuse, Riverton, Pleasant Grove, or Santaquin. Plus, we have an online menu, so you can conveniently order before you even arrive. 
You'll experience an authentic drive-inn experience with our retro dining experience and famously-thick shakes. We've been in Utah for over 60 years and pride ourselves in maintaining the Iceberg Drive Inn experience. 
Try Iceberg Drive Inn tonight. It's the perfect choice for dinner!