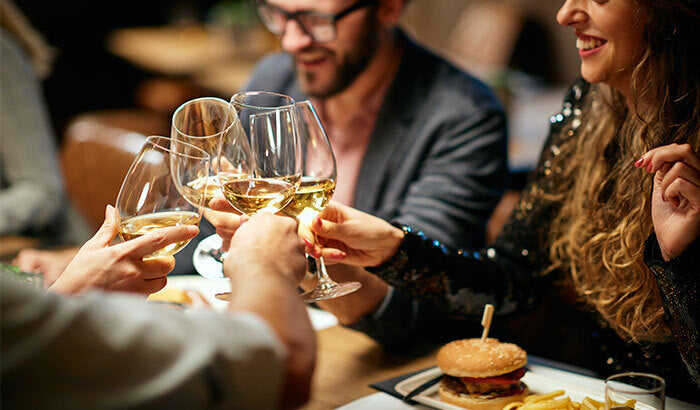 Fast food has been an American staple for decades, so it's no wonder why a drive-in makes a perfect dinner location for the whole family.
Dating back nearly a century, the drive-in dining situation has offered a deliciously convenient dinner solution for anyone on the go. Burgers, fries, onion rings, salads, and milkshakes have passed through car windows for years, making meals easier than ever.
If you're contemplating tonight's dinner plans, you can't go wrong with Iceberg Drive Inn, and here's why.
Drive-In Deep Dive
Drive-ins have been a part of American culture for a long time; they have even inspired ideas that have been used in songs, tv shows, and movies. Still, many people have yet to experience the unique atmosphere a drive-in offers.
A drive-in diner is where your food order is brought directly to your car. You'll find designated parking spots and ordering lanes when you enter a drive-in. Back in the day, a server would approach your vehicle, take your order, and then bring out your food. Now, technology has improved the drive-in experience to make it more efficient and enjoyable. Most places have an intercom system to place your order.
With this type of innovative service, a drive-in provides a fun atmosphere for any kind of dinner plan. Whether it is a date, a night out with family, or a quiet meal alone, a drive-in can turn a bland night into a memorable one.
History of Drive-Ins
Drive-ins initially began in the 1920s. Before then, cars were a rare commodity. After World War 1, the number of cars in the United States rose from around eight million to 23 million. With this increase, the idea of eating in your car took off.
In 1921, J.G. Kirby and Reuben Jackson created the first known drive-in restaurant, a barbeque joint named the Texas Pig Stand. People would drive up and stay in their vehicles while the "tray boys" would take orders and deliver food.
While the Texas Pig Stand was in the works in Texas, over in California, Roy Allen created a delectable root beer recipe. He built many stands around California to sell this tasty, new drink. By the early 1920s, he created a drive-in service that would sell root beer alongside delicious food. They would even bring it directly to their customers' cars so they could enjoy the food in their vehicles. This business kept growing and eventually named its drive-ins A&W. A&W became the first drive-in chain restaurant in the U.S.
Today, Iceberg Drive Inn is a staple in the drive-in community. We are family-owned and have carried the restaurant tradition for over 60 years!  We have locations in Utah, Arizona, and California, and we're hard to miss. 
When you stop by, try some of the food that made us great – super thick shakes with limitless flavor options, juicy burgers, crispy French fries, and hand-breaded onion rings. Our food is always freshly cooked on the spot. We have so many great options that you will keep coming back for more!
Why Drive-Ins Are Superior
 Here are some reasons why a drive-in has continued to thrive through the years:
Customer Service

– Have you ever been to a restaurant or a fast-food location and felt like you were being rushed in and out? Are you tired of feeling like a thorn in the side of fast-food employees? Drive-ins offer a breath of fresh air with their genuine customer service.




These eating establishments offer a more human experience so their customers can receive the food and the environment they really want. If there's a problem with your order, don't worry! A kind employee will be at your side to make it right. Plus, if you have any questions about the menu, these same workers will take the time to help you curate your perfect meal.
Avoid Large Crowds

– Have you ever been engulfed in a very busy restaurant where you can't even have a conversation with the people you're with? Nothing is worse than dropping a pretty penny on dinner only to find the atmosphere lacking. Going out is for social interaction, and ambiance is everything.




So, stop trying to push your way through a busy restaurant and go to a drive-in instead! They will bring your tasty meal straight to your car, so you can fully enjoy the food and the people you're with.
Better Food

– Getting food through a drive-thru can be convenient, but by the time you get home, the food tends to take a major drop in quality. No one wants cold French fries, hamburgers, or chicken. And then there's the ice cream problem– have you ordered ice cream from a drive-thru, and by the time you're home, the ice cream has melted?




Drive-ins are the solution! You still get the drive-thru experience, but you also can eat the food when it's hot, and the ice cream is cold. While you can technically do this at any restaurant, you might feel awkward eating in your car if it's not a drive-thru setting. Stop losing the quality of a fresh meal and enjoy your dinner at Iceberg Drive Inn. 
Iceberg Drive-In Is Perfect for the Whole Family
Are you convinced that a drive-in makes the perfect stop for dinner? Great! Come into Iceberg Drive Inn for a juicy burger, crispy onion rings, or a thick, classic milkshake. Whatever you're craving, we've got you covered.
With locations across Utah, Iceberg Drive Inn is sure to be close to your house or work. Come see us in Salt Lake City, Fillmore, Sandy, St. George, Syracuse, Riverton, Pleasant Grove, or Santaquin. Plus, we have an online menu, so you can conveniently order before arriving.
Visit our website to see our full menu and dream up the perfect meal for tonight's dinner.